If you need a new website and you're asking yourself, "how much does a website cost", you're in the right place... and you're not alone.
In this guide, I cover the most common website options, what you get, and what you can expect to pay for each. Of course, there are hundreds of thousands of web designers and website platforms, but you'll have a starting point and options to move forward with.
Before we begin, you need to ask yourself a few questions:
Do I have more time than money?
Do I have more money than time?
Am I 100% invested and ready to pay for a website?
Knowing the answer to these sets the foundations for where you should start, and what you will pay for a website.
The Web Design Process - Where it all begins
So you need a website for that o-so-awesome idea you've been bouncing around for a while?
Well, you're in for a wild ride.
I would describe the web design process as a trip through uncharted Amazon Rainforests, complete with new species of snakes, spiders, and predators you've never heard of.
Now that I've got your attention, let me lay out the exact steps you should take so you don't pay too much for your website aka step on a poisonous dart frog and die along the way.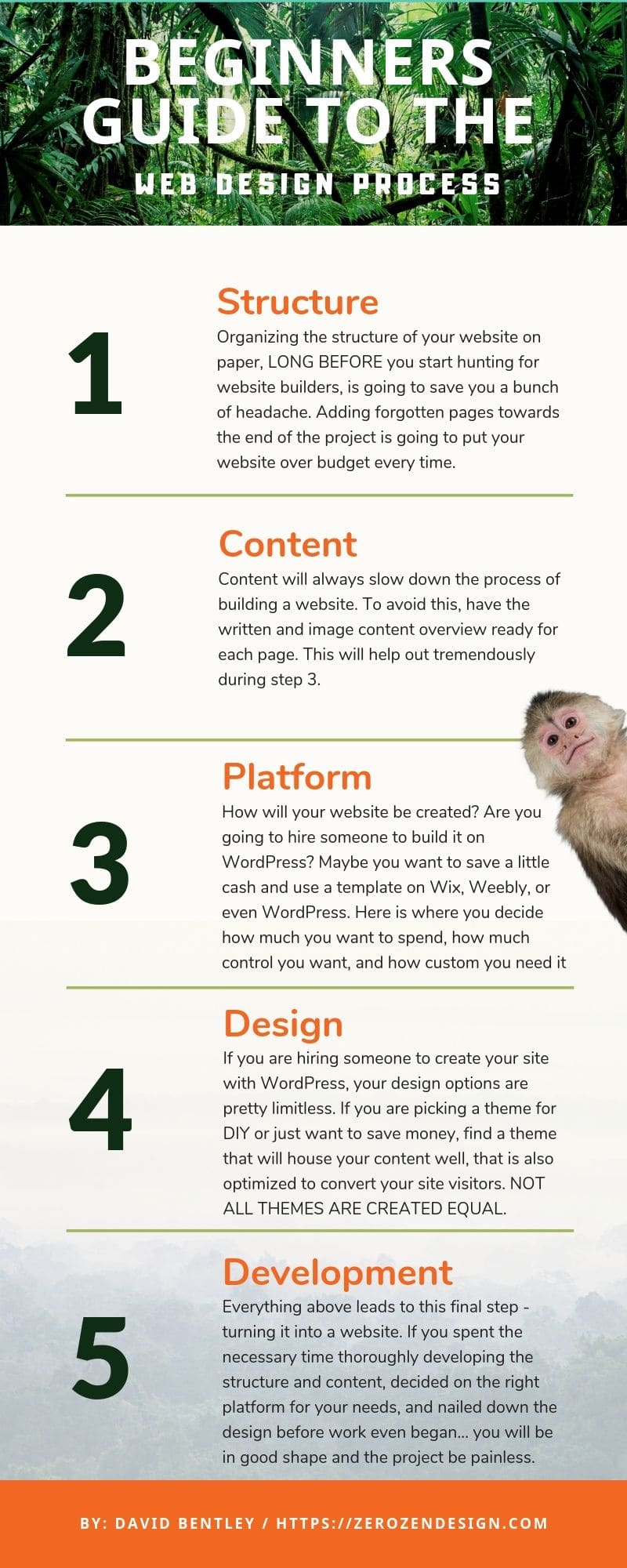 1. Structure
Your website structure, is essentially the blueprint for your site. Without the structure, the whole web design process will run amuck and you will lose money and patience by the end.
The best way to come up with a solid outline for the site is to divide it into two elements:
Pages - What pages do you NEED to include on the website? Remember, less pages is going to give visitors choice overload.
Functions -  What does the website need to do functionally? Is it an eCommerce site? Do you need a contact form? How about live chat or an events calendar?
Hint: free live chat can increase your visitor to value conversion by 200%. Did I mention it's free? 
So go ahead, start scribbling out the structure of your website. You will save a lot of money by coming to the table knowing exactly what you want and need on your webpage.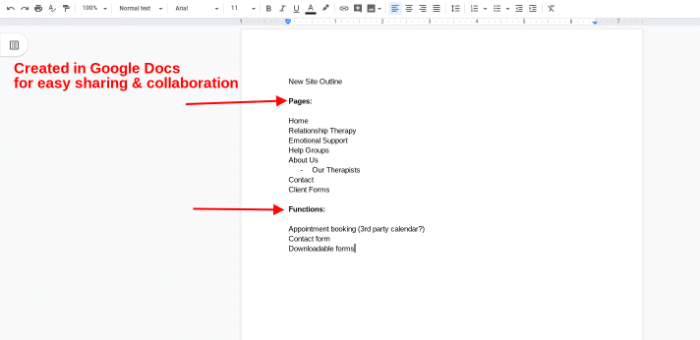 2. Content
I will be the first to tell you - this is where the website process starts moving like a river in the dead of winter.
Most website clients don't have text and image content ready to go... or even thought of for that matter. It won't rear its ugly head now, but this snake is going to bite you in the ass later during the project.
Figuring out your content, or at least the overview for each page of your site, is going to make the design process easier, and the website will get finished on time and on budget.
See, if you don't have any content, the design isn't really based on anything other than looks.
and here's the problem...
If you write content later in the project, you start noticing that your beautiful design is actually not suited for your content at all.
Things you wanted to include on certain pages don't really fit into the existing layout.
It is now when you start to realize that you either have to scrap the content you want to include, or pay the web designer to make changes to the design after it's already approved.
Show me the money!
3. Platform
This is your first major fork in the road, and it plays a monumental role in website cost.
Hiring a web designer is typically more expensive than using a DIY site builder like WIX or Shopify.
But what is the trade-off?
Well, with any of the "closed" site builders, you don't own your work. This means you are married to them until you decide to redo the website again. If you leave, you can't take the website with you.
 - so you're starting over.
When you hire a web designer, you'll probably have a WordPress powered website and you'll own the work. It will be hosted on your server (I recommend SiteGround), and you can move it and do whatever you want to it.
But... if you don't play your cards right...
YOU'RE GOING TO PAY MORE THAN YOU SHOULD FOR IT.
(my recommended) Magic combination:
WordPress
Page Builder (Beaver Builder or Elementor)
Page Builder Add-ons
I'll explain why I think this is the best option a little later in this article.
4. Design
Now that you've got all your website planning out of the way, you can finally start spending money on the website design itself.
By website design I'm referring to the actual design, not the working website.
Design and development are two separate phases and even though you are looking for a "web designer", just know that they are different.
During the design phases, you have several options depending on your overall budget.
But before you run off hiring someone, let me take a second to explain what you need to be looking for.
Don't base your decision to hire a designer on their portfolio!
This is the most idiotic and asinine way to hire a website graphic designer. There are a lot of people out there who would love to overcharge you for a site design that does absolutely nothing for your business.
Sure - it will look great, but it will convert like shit and you'll be having buyers remorse before you know it.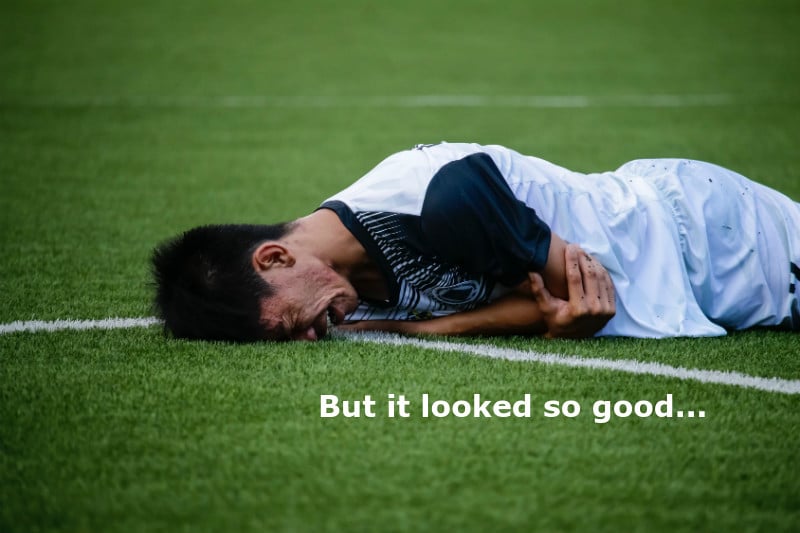 So how do you avoid an over-exaggerated adult fit followed by depression?
Don't look at price tag first - If you base your decision on price, you will end up paying too much in most cases. A design that cost $2,000 doesn't necessarily mean it will do any better than a design that cost you $200. You could simply be paying for a company's huge overhead, not necessarily a quality design. On the flip-side, a low-budget designer could simply be really efficient and have plenty of work - a simple case of supply and demand.
Ask questions - When you are hiring a designer, it is nothing more than a job interview. You need to understand what is important to that designer. In my case, I care about converting visitors to value. If that means the website looks ridiculous, but converts 50% of its visitors to leads, I'm all for it. To be completely honest with you, some of the highest converting sales pages look like they were created by a 5th grader... BUT THEY WORK!
Ask for case studies - If I told you I could make you a million dollars in 1 year, would you take it face value and believe me? I hope not. But what if I said I could make you a millionaire just like these 3 other clients I have and showed you the numbers?
So let's talk options...
There are a few different resources for hiring a graphic designer for your web pages.
The first is 99Designs.
99 Designs is great because you don't just work with a single designer.
You create your design brief and get designs from 5, 10, even 20 different designers. Since it is a design contest, you have freedom of choice to decide who is closest to your vision. You can request adjustments as the contest progresses and hone in on that perfect website.
What should result is a killer design that looks great but works well for your business too.
Here's the million secret to running a successful design content - 
Be very very specific and clear in your design brief.
If you create a 3 sentence design brief and expect an awesome website to come from it, think again.
It will look like shit and you will be back where you started,
except a few hundred dollars in the hole.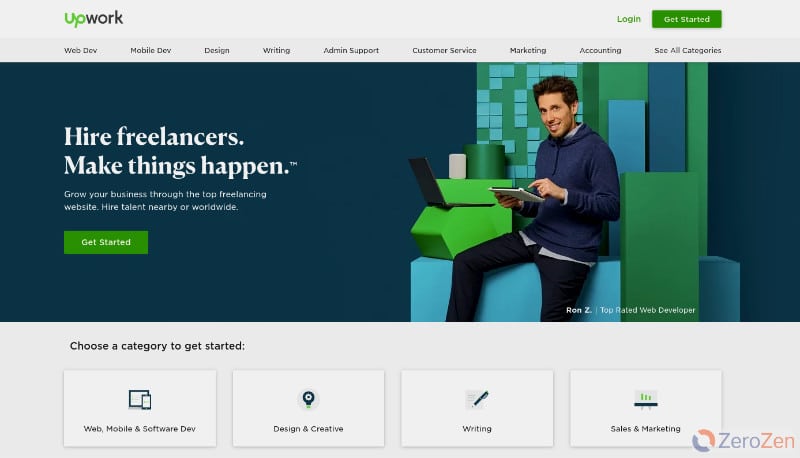 Upwork
Next is Upwork. This is a more traditional marketplace for creative professionals.
To start, you create your project. Next you have the option to invite providers to your project. I actually prefer this over making it public to everyone. This will eliminate people applying for your job that will obviously not make the cut.
I'm not going to lie - Upwork is overrun with people who do shotty work but luckily the review system will help keep you from losing your money.
The key to success on Upwork is to make your project a flat fee vs hourly. Also give very clear instructions on what needs to happen - similar to your design brief on 99Designs.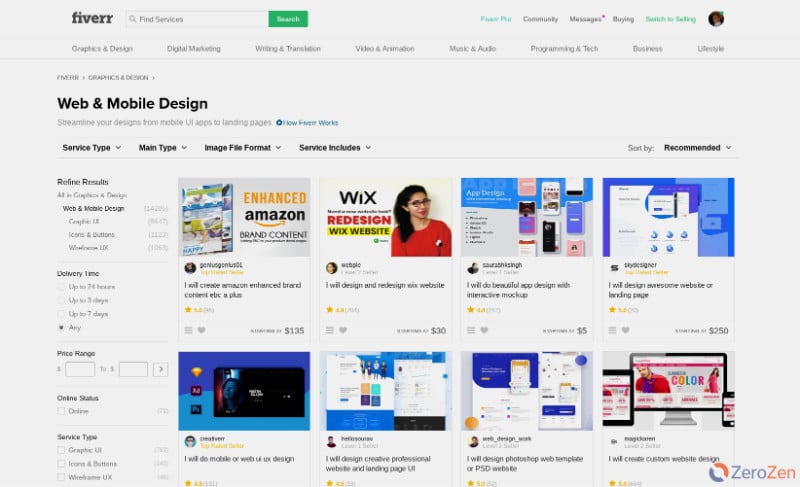 Fiverr.com
Finally we have Fiverr.
When Fiverr launched, I remember seeing a marketplace where you could get just about anything for 5 bucks.
If you wanted send a video of a man in a banana suit to singing happy birthday to your friend, you could get it.
But - all good things (and banana suit man) must come to an end.
The company finally grew up and stepped up their offerings.
But be warned...
Just like Upwork, hiring a web designer for your website graphics can be tricky.
So how do you find someone for the right price that does quality work?
Here's a little trick that will help you keep from getting scammed.
When you hire someone and they send you a page design for your site, right click and check Google for the same image. Chances are they simply found a pre-created template, put your logo on it and tried to pass it off as "original".
Fiverr can be a great place and can keep your website cost low as long as you take your time, ask questions, and do your homework.
5. Development
With all the leg work out of the way it's NOW time to turn all your efforts into an actual website.
The development phase is where the rubber meets the road, and where the largest part of your web design expense will come from.
If you don't already have a website designer to hire, you can find one on Fiverr or Upwork (or us) to turn your approved designs into a working website.
Our custom website option is great for those that want their website quick and right.
We created the custom site option as a relatively low cost way to turn company's website designs into working websites - usually within 48 hours.
Let's talk a little about development timeline.
IF you already got your content out of the way, figured out your images, and had your site pages designed - development should take no more than a week and a few days for a simple 5-10 page website.
If a developer says it's going to take 2-4 weeks
Walk away!
If the site developer is doing it correctly, the whole WordPress website should cost under $2000 for a professional design that is turned into a website with one of the site builders mentioned above. This is average for a website with 10 pages or less.
DIY Site Builder Cost
I see it all over the internet, and I get asked this question a lot:
"Should I build my site with a DIY builder like Wix or Squarespace?"
My answer: "It depends"
Let's take a quick dive into the blue hole of DIY website builders and talk about what you are actually getting for the cost.
You might find that what you get with these site building tools can easily be achieved using the magic combination I talked about above, but with the added benefit of owning the site you build.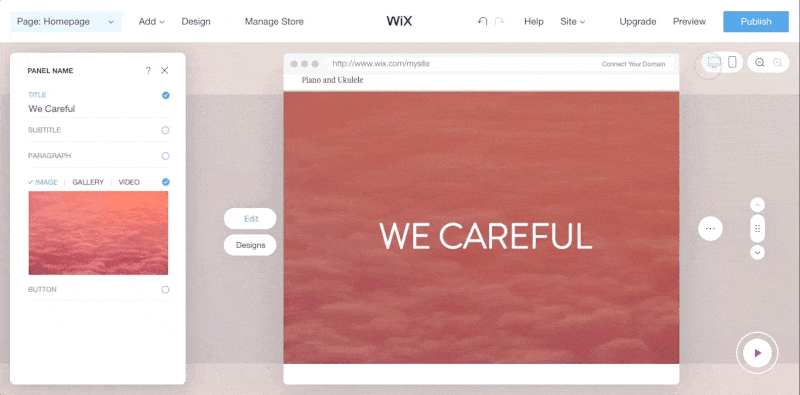 WIX.com
The first DIY site builder I'll cover is WIX. There is no real reason I chose this one first other than it has some strange cartoonish star as its icon that seemed to say "David - put us first in the list".
So there ya have it.
WIX has been around since 2006 and is based in Israel - sorry all you Merica first people, you can cross WIX off the list.
About 100 million people around the world use WIX for their website.
You can choose from 500+ templates to launch a website with and they have support to help you with things if you get stuck.
So what's the cost of WIX?
Well, they have a free 14-day trial and then you have  few options to choose from ranging from $13 - $39/mo.
But here's the catch:
After your 1st year of domain for free, you'll be paying $14.95 each year. That's a bit more expensive than other places like Godaddy, or my favorite - domains.google.com.
Email is offered through GSuite which costs 6 bucks per email account per month. So if you need 3 different email addresses, you are going to be paying an additional $18/mo on top of the cost of the website service.
The WIX Takeaway:
If you are going to choose WIX, Don't go any lower than Unlimited Plan. This plan is the cheapest that includes unlimited bandwidth - and you'll want that.
So if you do the math
$17/mo + $6/mo (single email address) = $23/mo (don't forget the dollar or so you'll be spending in year 2 and on for the domain)
If you are just dying to jump on the WIX train, go ahead and get started with your site.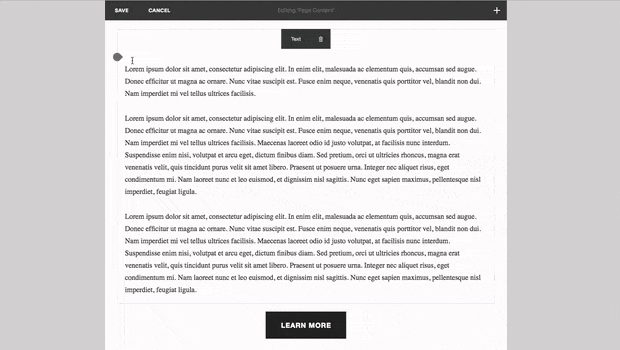 Squarespace.com
Next in the lineup we've got Squarespace.
Squarespace calls NYC home.
It was started by a guy who had a good idea and $30,000 of his dad's money. Just like another small company you might have heard of called Facebook, Squarespace started in a dorm room.
Squarespace is a bit smaller than WIX in customer size, weighing in at about 2 million users.
Although people think the templates from Squarespace are beautiful, most businesses don't need beautiful, they need functional.
Far too many times have I seen a sleek, large format website template used for something like an accounting firm.
This just isn't the right fit.
I haven't really seen any good business templates on Squarespace but maybe they will create some one day?
Squarespace cost:
Just like Wix, you can get started with a free trial for 14 days. After that, you'll pay $18/mo (if you pay for the year in advance) or $26 if you choose month to month. Of course eCommerce options are more expensive.
But here's the catch:
Domains cost $20/year which is outrageous.
Like WIX, email is offered through Gsuite so plan on spending another $6/mo for each email account you need to set up.
The Squarespace Takeaway:
If you decide to build a website with Squarespace, you're going to be paying a premium for a site that probably isn't going to do much for your business unless you are a sleek and sassy company that wants to maximize white space and be uber creative with your online presence.
Personally, from my years of experience, Squarespace sites suck. Most of the our members that came from a site builder, come from Squarespace. I haven't ever seen a Squarespace site rank well, and usually websites that are created on Squarespace look ridiculous, which means the interface is simply too complicated for a normal person to create a good looking and functional site.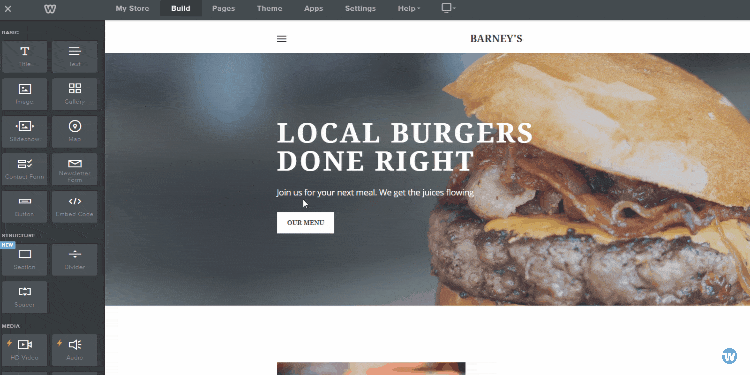 Weebly.com
Aside from having an annoying name, Weebly is the closest to what I think is the easiest DIY website editor for your money.
But I still wouldn't recommend it.
Weebly Cost:
You could plug along with a free website for as long as you want, but the domain will be something like yourdomain.weebly.com.
And this looks really unprofessional.
So instead, you'll want to settle for the Pro plan which is going to run you a cool $12/mo.
The reason I recommend the Pro plan is because it include eCommerce through Square (they own Weebly) and you get rid of the Weebly advertising.
But here's the catch:
Domain is stupid expensive - $20/year (first year is free)
Just like the others, you'll be paying $6/user/month for email through Gsuite.
Even though the price is $12/mo, you have to pay for a year up front.
The Weebly Takeaway:
I really like Square as a company and them acquiring Weebly was a good move.
However...
Like the others, Weebly is limited. What you see is truly what you get. You can expand your website through the app marketplace, but you'll be adding additional monthly costs every time you want to add a new functionality to your website. 
Should you spend money on DIY website platforms?
I'm going with NO.
My reasons:
You don't own the website
Functionality is limited unless you pay extra per month
It is still up to you to come up with a layout, content, and images that "sell" your business, and most business owners suck at this.
These services don't have sites that are mobile optimized, just mobile responsive
It isn't worth saving a couple hundred dollars a year to miss out on thousands of dollars in potential revenue.
So what are the good things about these platforms?
Editing is easy
You don't have to worry about nerdy site updates, support, and maintenance for site performance.
BUT...
You can get all this and more with our cheapest website plan.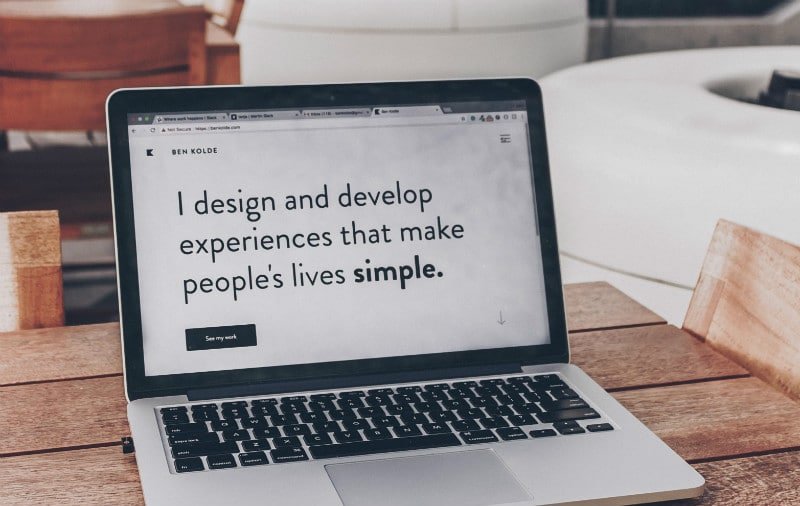 Pro Website Design Service Cost
Before site building platforms like Weebly, if you wanted a website you hired an expert.
and back then they cost a fortune.
Back in 2010 I came up with the idea of ZeroZen because I realized there wasn't a really affordable website option (at least one I could find).
All the quotes I got for the website I wanted at the time were at least $5,000, and the website was simple.
Fast forward to today and the landscape has changed drastically.
You can hire someone for website services that will charge you $425 or get a quote for the same project that is $4,250.
So why the huge price gap?
There are 3 typical reasons why you see such a huge variation in website cost. Let's go over them.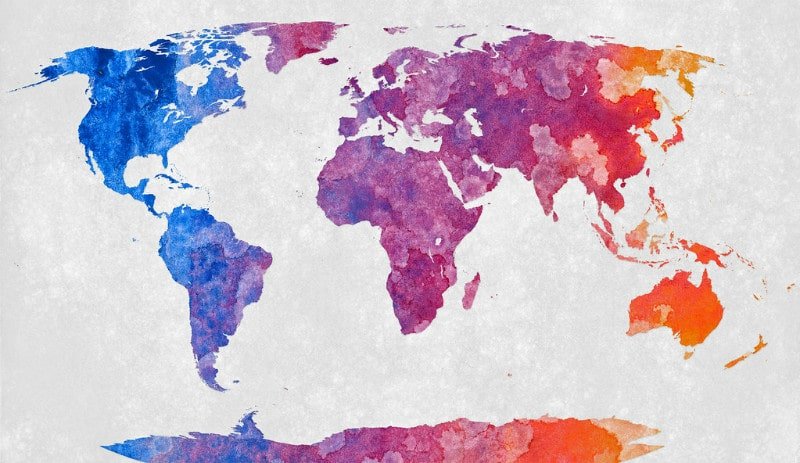 Reason #1: Location
Today, just about everyone has an internet connection. Even in countries where poverty levels are at an all time high, there is a website developer working remotely with clients around the world.
To someone in Bangladesh, $500 in a week will last them a few months.
Side story:
We had an Au Pair from Thailand come live with us to watch our children while my wife and I worked. We took care of her living, food, vehicle/travel plus we paid her $350 cash per week.
When her first payday came around and I handed her $350 cash, you would have thought she had won the MEGA MILLIONS Lottery.
Later that day I asked her what she made each week living in Thailand and she told me she earned $15 USD / day at her job.
So as you can see, someone who builds a website for $500 in Thailand, Bangladesh, India, Nepal, or any number of other countries like these can often under-cut American and European design services.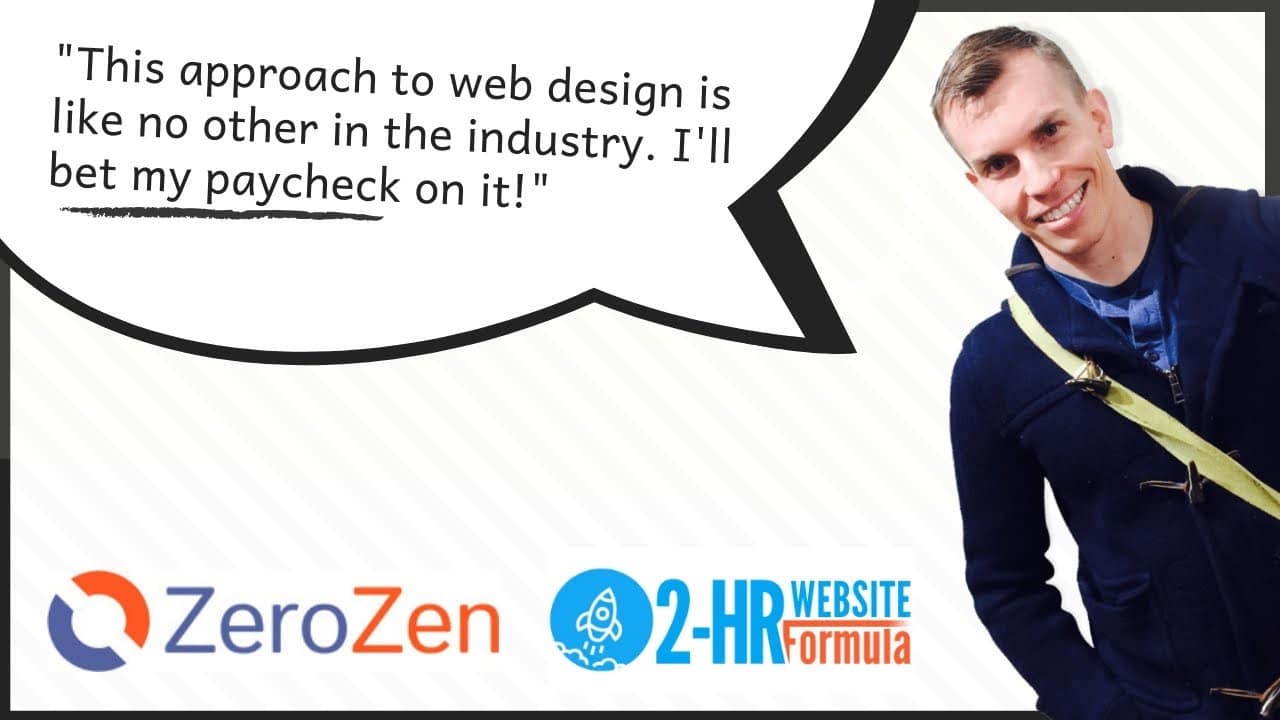 Reason #2: Service Model
For US based website service providers, there are a few options that they can deploy to make money with web design.
Work with templates: I used to do this but then realized it is more trouble than it's worth.
Go after the big fish: Instead of relying on quantity, some web design firms land 5 or 6 big clients per year that pay hundreds of dollars each. I know a few CEO's of companies like this and they are always worried about overhead. Most of the time, these big firms have in-house creative people that cost a lot of money.
Thinking outside the box: This is what we did at ZeroZen. Our 2-Hour Website Formula is a website option that doesn't cost a lot, Includes everything a business owner will need AND comes with a no-pay guarantee. It is a win-win for the client and us.
Reason #3: Scam
There are companies and freelancers out there that will scam clients out of money (imagine that).
They simply undercut everyone else, charge a deposit, provide very little then move on to the next victim.
Sometimes they will give a small refund along with the work they've done, which usually consists of adding a theme, logo, and a few images.
This can happen to 10 or 20 clients at a time, and if the scammer is just making $300 from each as the deposit, it adds up to a substantial living.
How Much Should a Professional Website Cost?
This is the million dollar question, and here's my oversimplified answer to make sure you get your money's worth.
When you are interviewing a freelancer or web design company, ask these questions first:
What platform do you create your websites with? (answer should be WordPress)
Do you use Beaver Builder or Elementor? (answer should be yes)
How long will it take to turn my designs into a working website? (if your designs were already created per my instructions above, answer should be no more than 2 weeks for a 10 page website. ECommerce may take a few days longer)
Do you offer an ongoing hosting and maintenance plan (answer should be yes, and should be UNDER $50/mo)
Will my website be mobile optimized, not just mobile responsive? (answer should be yes. Ask for examples so you can see the difference in mobile and desktop).
If the provider answers all your questions correctly:
A completely custom website should cost you no more than $2500 for approved designs turned into a working professional website.
Including the professional page designs by the graphic designer, your entire website project should be no more than $3200 total.
If the freelancer or company has a stellar service model that includes a high-converting website model, you can expect to pay as little as $425. Hint, hint - check out our inexpensive website option.
If the website service provider is using a theme, your website cost should be under $1500, but likely won't include any content work or Search Engine Optimization.
Website Platforms Explained
If you know you want to hire a freelancer or web design company to build a website for you or a business, you need to know what your platform options are.
Before I get into the wonderful world of platforms, let me take a step back and explain the different components of a website that all play a role in the overall cost.
Domain - This is the https://yourdomain.com address. Imagine this as a mailbox for a home address.
Hosting - This is the actual property where your domain (mailbox/street address) is located. It plays a role in the size and type of website you can have. For example - you probably can't build a 300 unit apartment complex on .25 acres of land.
Platform - This represents the foundation of the website (or in my awesome analogy... the home) Certain types of foundations can be used for specific types of websites - ahem - homes.
Site files/pages/etc - This is the house, or website itself. This is what people see. If you give someone your street address, they drive to your home and see the house. If you give someone your domain, they type it in and see your site files and pages in website format.
That's it!
Ok - on with the show.
So platform plays a crucial role as you can see. Well, all of it plays an important part, but the website platform itself is going to determine how expensive your website is and what it can do.
There are a bunch of different site platform options out there, but the only one I ever recommend to people is WordPress, and here's why:
Cost of WordPress
There are two options for WordPress - paid and free.
The paid version (WordPress.com)
WordPress.com is basically set up to be more like the DIY site building platforms above. You choose a monthly subscription, install a theme, edit it, and you're off to the races.
I don't recommend the paid version of WordPress just like I didn't recommend going with a site building platform.
Why?
The cost isn't worth the value you get.
You are still extremely limited in what you can do and ultimately, just like the others, if you want to switch... you can't take it with you.
The free version (WordPress.org)
I know this is all getting very confusing now so let me go into a quick history lesson to clear things up.
Back in 2003, a guy named Matt launches WordPress. He actually created it from using another idea this other guy had come up with but later abandoned. It was called b2/cafepress.
So Matt and his buddy launch WordPress to the world and it was pretty simple. Just a really easy blogging platform so people could create blogs about cats, kids, and whatever else people wanted to blog about back in 03.
As popularity grew, they kept developing it, always keeping it free and open-source. In nerd terms this simply means anyone can do anything or create anything with it.
Today WordPress powers over 30% of the internet's websites and most of that 30% are using the free, open-source version I recommend.
The free version is available as soon as you set-up your hosting account. There is usually an option to install WordPress. Click the button and you are set up with the bare naked necessities of online domination!
Up to this point, your website cost is only made up of the domain price, which is usually $12 - $15, and hosting, which ranges from a few bucks to $50 or so per month.
WordPress Scalability
This is where the power of WordPress comes in, and the site builder platforms suck.
The WordPress community is huge and there are developers creating plugins for it every single day.
What's a plugin?
Well it is a pre-packaged bit of code that adds a new feature to your website.
There are thousands of free plugins, and thousands of paid premium plugins.
For example, if you wanted to add an event calendar to your website, you can go to the plugin repository (a library of downloadable plugins), type "event calendar", and you'll see over 32 pages of options to choose from. You can also find plenty of paid event calendar plugins as well by doing a Google search.
What this means is your website is not limited to a single theme or set of features. If you can dream it up, there is probably a plugin.
But what if there isn't a plugin?
Easy - there are hundreds of thousands of WordPress developers around the world. Some are really expensive, others are really cheap.
Tell them what you want and they can create it for WordPress.
What I'm trying to explain, through all the nerdy jargon, is that a WordPress website is going to cost much less than websites built on other platforms.
But scalability isn't the only reason.
Editing a WordPress Website
Done correctly, a WordPress website will not cost you a dime to update and edit on your own.
How?
Simple - one of the page builders and editors I mentioned above.
If your WordPress site is created with Beaver Builder or Elementor, you can very easily adjust content and images. If you become more comfortable with the editor, you can even change the entire site layout yourself with no need to spend money on a professional.
Most people don't realize this, but the upfront cost of the website is usually matched by the cost of small edits and "tweaks" over time.
Why?
The website owner didn't know any better and the website developer simply built them a site they couldn't update or edit themselves.
Trust me - it can get very expensive in the long run.
The Cost of Ownership
If you've ever leased a car, or an apartment for that matter, you've probably had those friends that said
"your throwing your money away. You don't even own it!"
It's true - you're simply paying to play.
Let me ask you, would you rather OWN your website or lease it? With Wix, Weebly, Squarespace, and some website platforms, you pay monthly but don't actually own the website.
It is nothing more than that fancy car with an outrageous lease agreement.
I don't know about you, but if I'm going to pay $25 per month, $300 per year, $1,200 over 4 years - I'd want to be able to call it mine.
Nope!
WordPress is great for this. Besides the ongoing hosting, domain, and optional maintenance fee... you own the website. You can grow it, kill it, move it - it's yours.
Even with our super-cheap, super-awesome 2-Hour Website Formula, the website is yours to keep. 
Wrapping Up: Get the Best Website Within Budget
This is where I get straight to the point and condense all 5000 words above into actionable steps.
To build a website that is affordable, effective, and most of all, long-lasting - here's what I recommend.
Stay away from DIY website builders like Wix, Weebly, and Squarespace unless this is just a trial run and you are not sure you're in the business for the long-haul.
Make sure your website is powered by WordPress - the free version (it comes with most website hosting companies ready to install)
If you want a completely custom website, follow my instructions above.
If you want a website that is turn-key, done quickly, and comes with hosting and everything you'll need for an entire year - get this website option.
If you are hosting on you own - choose this web hosting company. I've used them for years and I highly recommend them for their stellar support and fast secure hosting.
Whether you think you need it or not - have live chat added to your website. It will increase your conversion rate immensely and this live chat is free.