Building and launching a business website is easy, right?
Well, that depends on if you do it right.
If you create and launch a website half-ass, the online presence of your business is going to suffer until you finally swallow your pride, forget the money you lost, and do it again... this time the right way.
So what really goes into launching a successful business website?
The infographic below shows the 4 ingredients needed to launch a website that is successful long after the "go-live" date.
Below the graphic you'll discover:
So without further ado... the infographic:
Dependable web hosting for a business site that is also affordable is hard to come by.
Not long ago, in a land far, far, away, I was hosting our business website on Bluehost.
Oh, what a disaster it was.
The site went offline regularly for 5, 10, even 30 minutes. I would check Twitter and see people flooding Bluehost with "how long this time Bluehost?", "My website is down again", and thousands from other business owners just like me.
The last time it happened, I tried Bluehost live chat which seemed to be more dead than live.
Wait time: 45 minutes.
Who the FCUK in their right mind is going to wait on their computer, staring at a screen for 45 minutes?!
Then I called...
"We're sorry, due to increased call volumes, we cannot answer your call right now. Please try again later"
This is when I decided it was time for a change.
I started my search on review sites and quickly realized that there was some sort of pay-to-play scheme going on and I didn't feel like I was going to get an honest opinion of business website hosting
so I had an idea...
I'll type "small business hosting" in Google, see what shows, and simply rate the company by their support.
It was brilliant!
I came across a company called SiteGround and live chat answered in less than 5 seconds.
Holy Cow! I thought.
A web hosting company that cares about the people on the other end of the chat screen.
So I called their support next.
Someone answered with an Eastern European accent within 1 minute.
And guess what...
There was no phone tree to get lost in. I simply called, pushed one number and was connected.
This was enough for me to make my decision, and I'm glad I did.
SiteGround has been an amazing web host. Their pricing is fair, the offer is unbeatable, and the people that work at SiteGround know what they are talking about.
On a side note... Eastern Europe has produced some of the best hackers in the world. And where there are great hackers, there are some brilliant internet minds at work.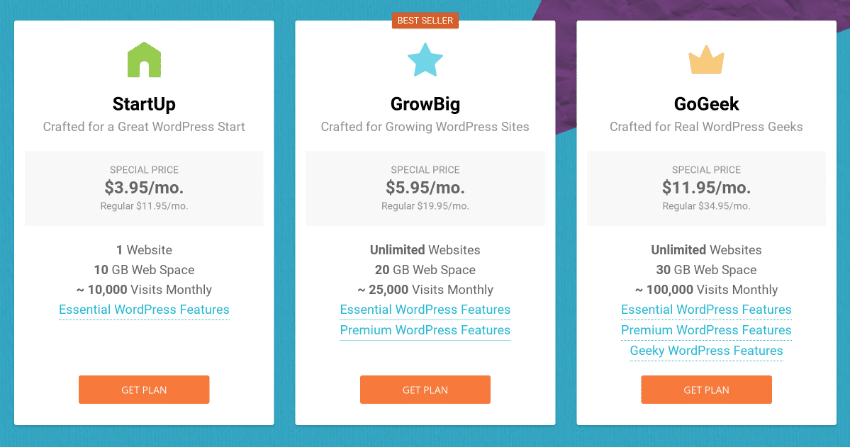 Which platform is right for launching a site for your business? The answer is pretty obvious actually.
Back in 2003, two guys named Matt Mullenwig and Mike Little took over the code of a defunct blogging platform called B2/cafelog.
[read more about WordPress History here]
They created WordPress as a blogging platform which quickly grew in popularity.
Today, WordPress powers more websites on the internet than any other CMS (Content Management System) around.
WordPress is great because is is more scalable than DIY site builders like Wix or Squarespace.
Plus...
If you build a site using a DIY site builder service, you don't own the site, you rent it or should I say lease it to make it sound more fancy.
If you are not a fan of leases, don't build a business website with a DIY website service, plain and simple.
There are some other CMS options out there but the developers are way too nerdy and you will never be able to manage the day to day operations of the website yourself.
A business website built with the other CMS options like Drupal or Joomla also tend to be more expensive and finding someone to help you with your site for the right price is going to be tough.
But here's the tricky part
WordPress has 2 options...
A pay-to-play called WordPress.com and a self-hosted WordPress. For a closer in-depth look at the differences, check out wpbeginners Guide to WordPress infographic.
There you will find that the "pay-top-play" WordPress.com option is limited and you have to pay money
and who wants to do that
when you can have it for free?!
Getting your WordPress powered business website started on SiteGround is actually quite easy and there are a number of tutorials out there, but I recommend taking the 4-day DIY Website Master Course if you are a do-it-yourselfer kind of person.
And if you are still skeptical about WordPress, just know, that according to w3techs, WordPress powers almost 36% of all the sites on the internet, and there's a lot of sites on the internet!
For more great stats, check out the infographic below created by Joost de Valk from Yoast SEO.
But let's cut to the chase
WordPress is used a lot, and it's got the market share, but why does ZeroZen use it for our site and all of our client's sites?
Because when I started this company, I had never built a website in my life. I had never looked at code, and didn't even know what hosting or a domain was.
To overcome this, I didn't study and learn, I just found ways around it. There are tools for WordPress that turn the platform into something a child can use.
And that's great for me (and you I'm guessing)
This very page was created using a drag and drop editor called Beaver Builder along with another tool called Ultimate Addons for Beaver Builder.
These two tools along with others are included free with our DIY Website Master Course and the 2-Hour Website Formula.
So check them out.
Let's switch gears a little and talk about 3 bad things that can happen to your website if you don't have an expert on speed dial.
Oh boy, where do we begin?
Let's start with a little story about how I found out that there is a thing called Malware that can destroy any business website.
Back in 2012, I got a call from a concerned client. It went a little something like this...
Client: "Hi David, I'm calling because I think there is a problem with my site. When people visit it from mobile, they are being redirected to a Russian Bride website."
Me (thinking): What the hell could that be? I have no idea what I'm doing or why this is happening.
Me (saying): "Oh no! Let me look into this asap and get back to you"
Between you and I...
I was just buying time to figure out what the hell was causing this and try to fix it.
Ta-da... Malware was introduced into my life.
This has been a silent killer of business websites for a long time now.
The WSoD is a white screen that shows you that your website is FCUKED.
It can start from any number of reasons but the usual suspect is website plugins not being updated in a timely fashion.
Last but not least
As a business owner trying to save money. There is nothing worse than clicking and updating all your site plugins at once and realizing that something didn't quite work as planned.
In all the cases (in my earlier days) that I got the WSoD, it was because I lazily updated all my plugins at once.
Having a web expert on call can help get this resolved quickly. The best advice is to have backups of your site.
If the site goes down, revert back quickly and troubleshoot the issue.
If you are going build a business website, or have one built for you, website maintenance is the most important part. But what should it cost?
First, let's talk about why your website needs maintenance in the first place.
Think of your website like a car. It has moving parts, electronics, wheels, and things that just wear down.
A business website is very similar and here's why - 
If you don't update plugins, clear the cache, delete post revisions, optimize your database, check your site speed, delete unused photos, delete unused pages that don't rank (and the list goes on), then your website will have issues.
It isn't an if scenario.
If you don't get an oil change in your car, what will probably happen?
So you can see... having a maintenance plan in place is important.
But what should it cost to have someone maintain your business website?
I wrote a popular article on what website maintenance costs, so go check it out, but here's the short version - 
There are a bunch of maintenance companies out there. From the ones I could find, it will cost you at least $100/mo to have those companies keep your website on track.
But that's ridiculous!
The better idea is to have a better website built by us and become a member. Everything is all inclusive for $365/mo.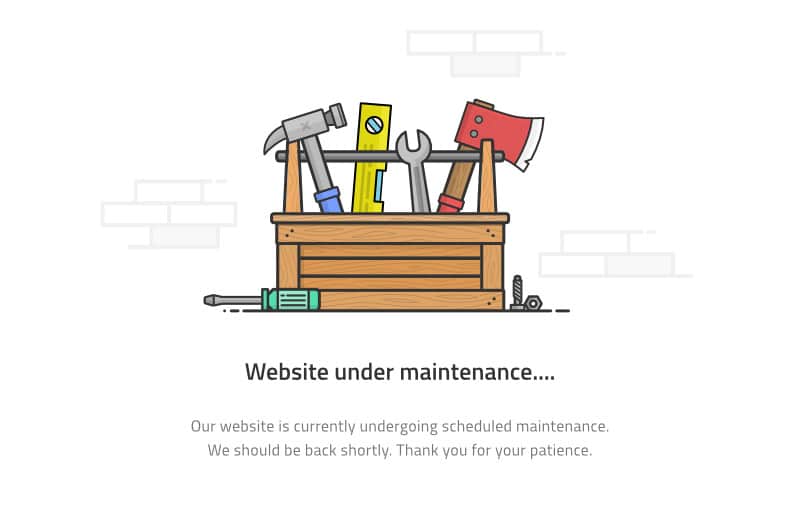 Let's quickly recap
building a business website should be done right from the get go. No cutting corners and simply trying to work it on the cheap.
A good website isn't just a website.
A business site built correctly, with the best web hosting in place, with a good maintenance plan and proper support will grow your business - I guarantee!
A bad website design, or a site launched on some backyard hosting company server is going to frustrate people or worse yet, harm visitors computers (thank you malware).
Plan properly to avoid piss poor performance and you'll have an outstanding site that looks professional and stands the test of time.
Good luck!